Private Jet Cologne to Mallorca
Charter a private jet from Cologne to Mallorca
A holiday with family or friends on the Balearic island cannot begin more exclusively and comfortably than in a private jet from Cologne to Mallorca. If a luxury hotel, finca or yacht is already waiting for you, a charter flight in a private aircraft will take you there in style. The private jet from Cologne to Mallorca also makes you independent of flight schedules and the often time-consuming check-in procedures in the crowded terminals of scheduled air traffic. You travel much more flexibly and quickly in a private jet from Cologne to Mallorca – more comfortably anyway!
Your charter flight in a private jet from Cologne to Mallorca
As a private jet passenger on your way on holiday, to a business meeting or to an event on Mallorca, you take off from Cologne just like everyone else from Cologne Bonn Airport. However, it makes a significant difference if you charter a private jet from Cologne to Mallorca with FSH Premium Flugservice. Then the check-in for your flight does not begin at the airport's two large terminals with all the other passengers. You have exclusive access to the General Aviation Terminal in Cologne, which was built only a few years ago, for private jet passengers only.
Enjoy great comfort there in VIP rooms, a lounge or on the terminal's gallery. For business trips, you can also use a conference area there.
While you relax, your check-in with luggage check-in or customs formalities is already running in the background.
It usually only takes about half an hour before you can board the private jet from Cologne to Mallorca.
This saves you at least an hour at departure alone and usually even more time compared to normal check-ins.
In addition, you can already get fully in the mood for your visit to Mallorca in a quiet, private atmosphere.
In a private jet from Cologne to Mallorca, you will reach the popular holiday island in just over two hours flying time.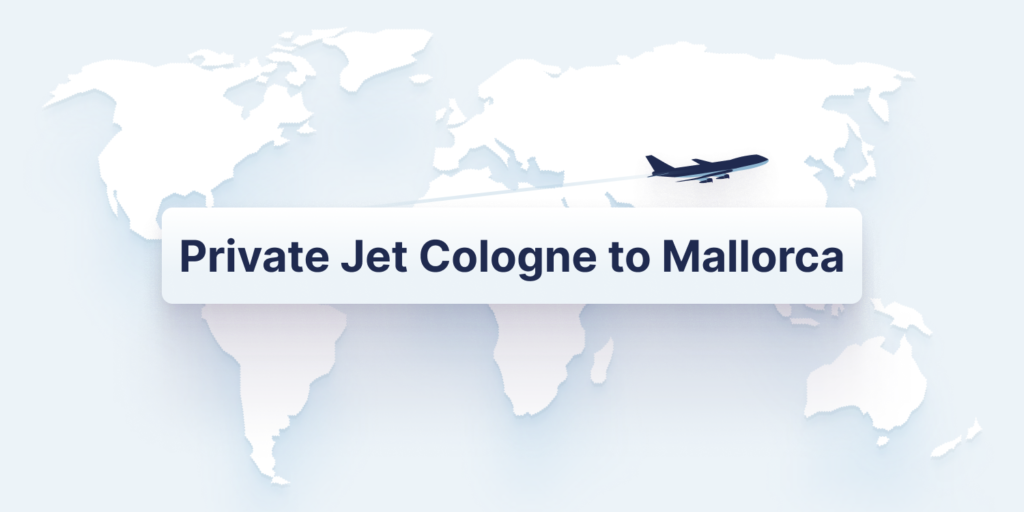 Then you will already land at the island airport just outside the gates of the capital Palma de Mallorca. Here, away from the crowds of tourists, you will be welcomed at Mallorca's Sao Sant Joan Airport in a separate terminal for private jets, just like in Cologne. Just a few minutes later you will have left the airport and Mallorca awaits you.
Book charter flights around the clock like the flight in the private jet from Cologne to Mallorca
The FSH Premium Flight Service is available to you 24 hours a day, 365 days a year. We are available at all times for booking or planning charter flights and can also realise flight requests at very short notice. Various private aircraft are available to you – with different ranges, sizes and equipment according to your wishes. So you don't just fly from Cologne to Mallorca in a private jet. The FSH Premium Flight Service also takes you safely and reliably to countless other national and international destinations in charter aircraft.
When do you want your private jet charter flight and where do you want to go? Talk to us now for a no obligation quote and we will take care of the rest for a perfect flight.
Simply call 0342 0470580, send us an email or use our online contact here. We and our private jets are always there for you!