Charter an aircraft
Charter an aircraft or rent a private jet – your advantages
There were over 22,000 private aircraft in operation worldwide at the end of the last decade. Most of these private jets took their passengers criss-crossing the USA. There, the world's largest fleet of all aircraft types has been in operation for decades, but in Germany, too, more than 400 private jets are on the road in aircraft charters. Together they take over more than 100,000 charter flights in business travel here. More and more business travellers and companies are clearly giving private jets preference over scheduled flights. Such private flights offer you many advantages: first and foremost, more flexibility, faster, more efficient business flights and, last but not least, of course, the luxurious comfort on board a private jet.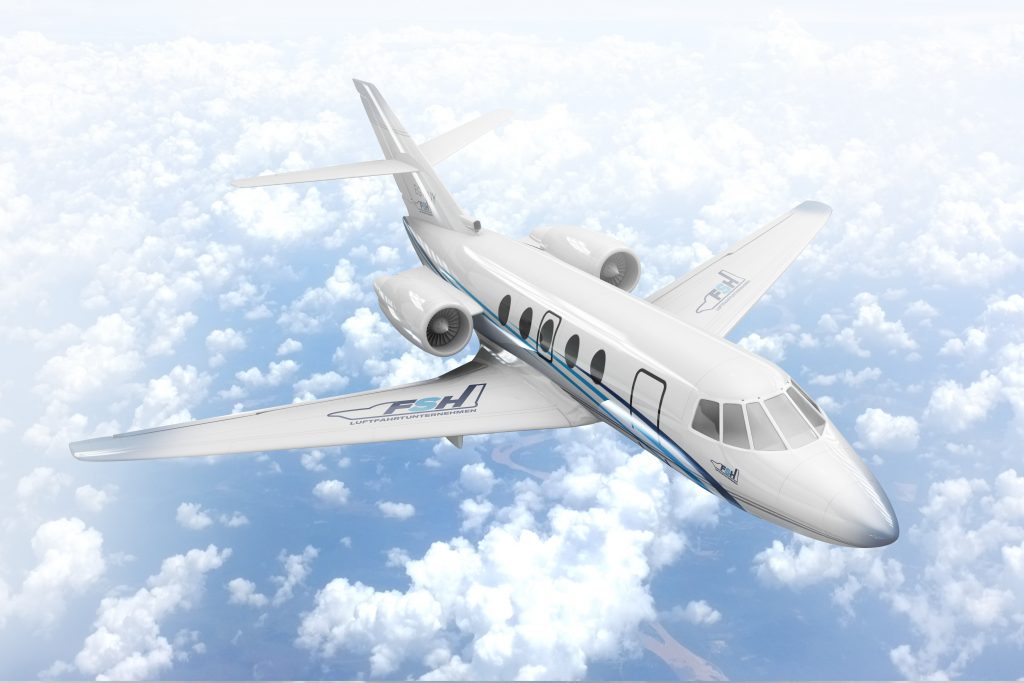 Why charter an aircraft?
With the aircraft charter of a private jet
many more airports are open to you as destinations or departure airports. In Europe alone, you can use more than 2,000 airports with the smaller or medium-sized jets, which is considerably more than the number of commercial airports for scheduled flights.
In addition, in the larger private aircraft with a long range, you can always travel throughout Europe, to North Africa or as far as the Middle East without stopping over or changing planes.
Forget long waits in terminals and save a lot of time on charter flights with exclusive, fast boarding for private flight passengers only.
Travel independently of flight schedules at your preferred times.
Fly away from the growing trend of delays or flight cancellations on scheduled flights.
Find suitable private flights, empty flights or free charter airports even at short notice.
Discover new possibilities for efficient business travel with group charter. You and your employees, customers or business partners can travel more exclusively and usually cheaper than with a scheduled flight.
Combine charter flights with scheduled flights when necessary – for example, for group travel to congresses, trade fairs and other events. Gather passengers from all over Germany with scheduled flights at one airport, from where they can all fly to the event together and very comfortably in a private jet.
Charter a private jet: It's easy to book your charter flight
Booking private flights is very easy. Submit your request for a charter flight quickly and without obligation here. If required, our 24-hour hotline will also be happy to support you personally at any time with an experienced team of advisors in your search for a suitable private jet or aircraft charter.
Tell us the desired airfields for departure and destination or stopovers.
When do you need your private jet?
How many passengers or luggage will be on board the private jet?
After these brief details, you will immediately receive a non-binding offer from us for your trip. Of course, we will also take into account other requests such as special catering or a shuttle service at the start or destination of your trip and make you an attractive all-inclusive offer for your exclusive charter flight.
If you book this aircraft charter, you will receive binding confirmation of all services and conditions of the charter in a charter contract.
With the FSH Premium Flight Service, you can conveniently charter aircraft for business or private trips, even at short notice. You can always rely on our competence, safety and reliability. Our offers for charter or private flights are transparent and contain no hidden costs. You do not need a membership for our FSH flight service as with many other providers!
Simply call 0342 0470580, send us an email or use our online contact here. We and our private jets are always there for you!
Wide range of aircraft for charter
Small private aircraft, midsize private jets or airliners, for example a Cessna Citation Jet 2 or a Gulfstream and many other aircraft types: Here you have a comprehensive choice with many different private aircraft tailor-made for your passengers or travel needs. Use large aircraft types with a long range for non-stop private flights or choose a smaller inexpensive private jet even for longer flights if you have the time for a short stopover to refuel.
In all aircraft, you can expect comfortable furnishings with many luxurious details and exclusive service for you and your passengers from selected staff. Added to this is the generous space available at the seats and in the aircraft cabin. All this premium comfort of a private jet cannot be compared with any scheduled flight and makes every charter flight something very special.
In addition, we offer you individual flight solutions for all industries or exclusive private trips with a lot of experience – let us advise you personally on individual aircraft types and the possibilities for your charter flights right away.
Fly more efficiently in a private jet: chartering a plane pays off
Comparisons are made time and again between charter flights and first-class scheduled flights. In addition to the great comfort, private jets give you above all maximum efficiency through time gains. With private jets you are consistently faster from A to B. The jets do not fly faster than the scheduled flights of the major airlines, but they gain you a lot of time around the flight – for example, through the greater choice of airports, which shortens your arrival or onward journey, or the fast boarding and deboarding without long waiting times.
This way, you or your staff can get a lot more essentials done – more meetings or appointments and other work. Because when comparing scheduled and private flights, it is not only the direct costs of a charter flight versus a scheduled flight that matter. Think also of the other costs due to lost working time or expenses and you will get a completely different, positive total calculation for the costs of private jets and the travel costs with charter flights.