Charter a Citation Sovereign including a stewardess
At FSH Premium Flugservice you can charter private jets in all sizes or configurations – of course we always have one of the most sought-after models for charter flights on offer: the midsize jet Cessna Citation Sovereign.
More about the Cessna Citation Sovereign
The charter or private aircraft of the Citation family are among the most popular machines of the US manufacturer Cessna and dominate the worldwide market for exclusive private jets with different models. All of them belong to the twin-engine charter or business aircraft category. The Sovereign model is at the end of a decade-long development of the Citation private jet series, which Cessna has been showing since the beginning of the seventies. The US manufacturer then entered the new millennium with the Citation Sovereigns. The new Sovereigns are designed for up to twelve passengers, can take off with a weight of almost 14 tonnes and then fly non-stop at around 800 kilometres per hour over distances of almost 5300 kilometres. This means that these private jets can be used effortlessly across the entire European continent to Russia, for flights to the Middle East or North Africa.
With a passenger cabin that is approximately 7.5 metres long and 1.8 metres wide and high, the Cessna Citation Sovereign offers generous and luxurious space for solo travellers, couples and small groups. The interior of most Cessna Citation Sovereigns does not use the maximum passenger capacity, so you can always expect extra comfort and space in these charter aircraft. There is no comparison with a scheduled flight – even in first class.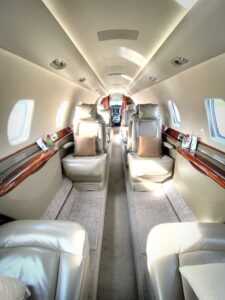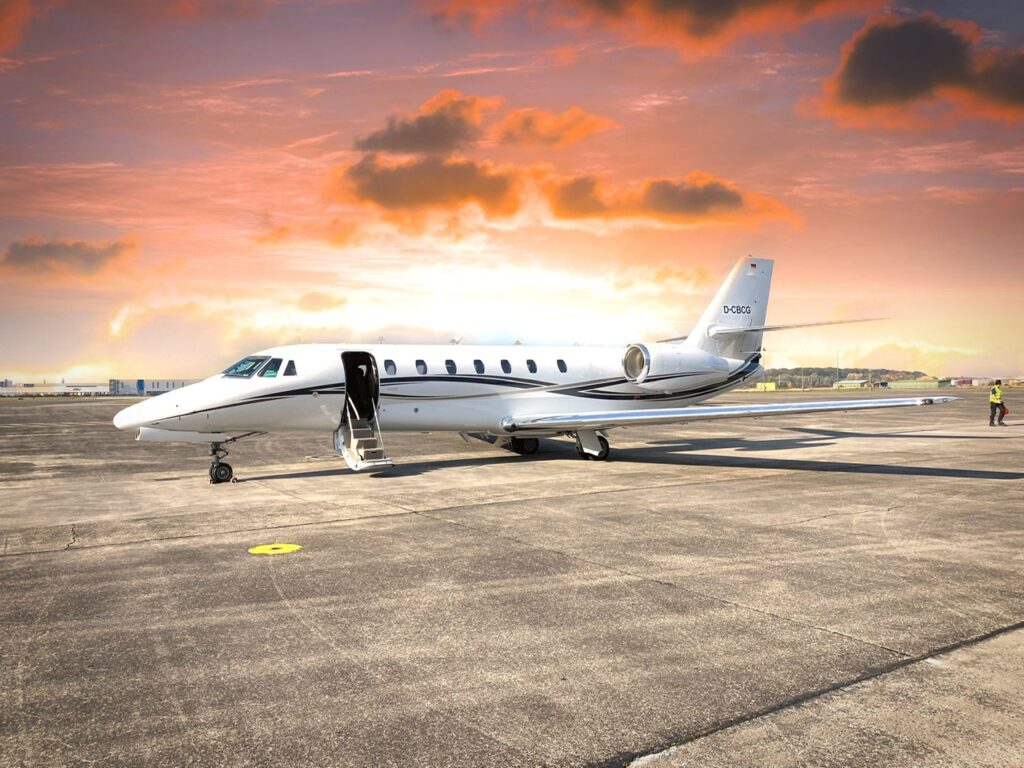 Technical data Cessna Citation Sovereign
Weight: 13,744 kg
Number of passengers: 14
Length: 7.7 metres
Height: 1.73 metres
Speed: 850 km/h
Range: 5273 km
Cessna Citation Sovereign charter with FSH Premium Flight Service
The Cessna Citation Sovereign private jet is one of the most sought-after charter aircraft of FSH Premium Flugservice. But it is not only here that numerous people want this private jet. Therefore, always book and plan your flight with a Citation Sovereign as early as possible. From a whole range of private jets, we can always offer you this model or others at short notice thanks to our large fleet of aircraft – as well as for booking current empty flights, with which you can then still fly really cheaply in a charter or private jet in the end.
Book a Cessna Citation Sovereign at any time
We are always there for you: 24 hours a day, 365 days a year. Call us now or send your flight request online to FSH Premium Flugservice. With us, you can take off for your destinations at any time, not only from the major airports, but also from many small regional airports. Even at night! Enjoy the complete freedom and the outstanding comfort of a flight in one of these private jets – with a Cessna Citation Sovereign or with many other aircraft models. We will always take you safely and reliably to your destination with charter flights and private jets and, if you wish, we will take care of any further services, such as airport transfers and all the formalities, at the time of departure or at your destination.
Charter your Cessna Citation Sovereign now. Charter this aircraft or others with FSH Premium Flight Service – your reliable partner for national or international charter flights.
Simply call 0342 0470580, send us an email or use our online contact here. We and our private jets are always there for you!