Charter Cessna Citation CJ2
With the Cessna Citation CJ2 you charter one of the most popular light private jets worldwide. The twin-engine aircraft combines comfort and high practicality. It requires only one pilot, which is one of the reasons why you can charter this private jet many times at attractive prices here at FSH Premium Flugservice.
Learn more about the Cessna Citation CJ2
Citation private aircraft have a long tradition at the US aircraft manufacturer Cessna. The first CitationJet was followed in 1998 by the introduction of the Cessna Citation CJ1. Alongside it, Cessna also presented a 20 percent longer version, the Cessna Citation CJ2. The first aircraft took off at the turn of the millennium.
A Cessna Citation CJ2 – model number 525A – offers you
comfortable seating for up to six passengers,
additional space for up to six large suitcases and hand luggage as well as a
as well as WC and washing facilities in the rear of the machine.
In total, this private jet has a cabin length of 4.14 metres. The cabin height is 1.45 metres and the width is 1.47 metres. Apart from the pilot, no other crew is required.
In the standard cabin layout, four seats are grouped together in the aircraft with two folding tables. Behind them are two individual seats. All of them can be moved or pushed together in the centre aisle if necessary.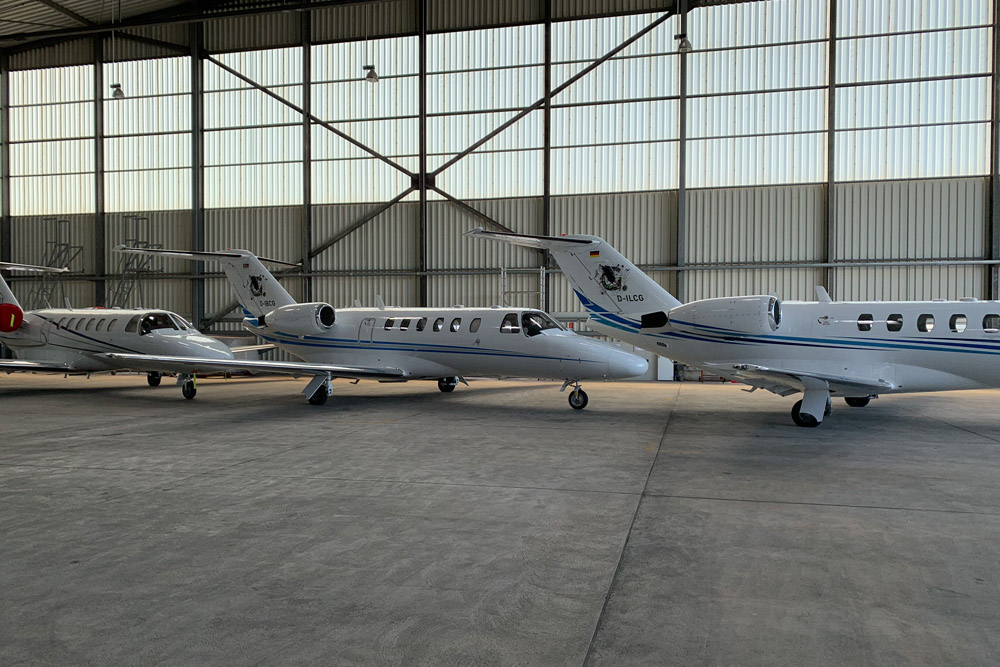 Technical data on the Cessna Citation CJ2
Weight: 5,635 kg
Number of passengers: 6
Length: 4.14 metres
Height: 1.45 metres
Speed: 760 km/h
Range: 3150 km
This makes the Cessna Citation CJ2 ideal for many direct flights in central Europe, but it can also reach the ends of the continent with a stopover.
Advantages of the Cessna Citation CJ2
Cessna delivered a total of 300 aircraft of this type. Most of them are still flying reliably for their owners, private charter customers and business travellers. For charter flights, the aircraft is still in high demand, even though there is a whole range of newer jets. There are several reasons for this. With its passenger capacity, the Cessna Citation CJ2 is ideally suited to most charter requests. Its range is also fully sufficient for most flight requirements. Moreover, because the aircraft requires only one pilot and no additional crew, it is cheaper to charter than larger, roomier aircraft with two pilots and crew.
The attractive charter prices for a Cessna Citation CJ2 also result from the somewhat older construction years compared to current private jet models from Cessna and Co. Safety or reliability are of course nevertheless guaranteed by constant maintenance. Here is some information: Various individual inspections take place every 100 flying hours. A complete check of the aircraft, which is mandatory after every 1200 flying hours, takes about 200 working hours alone.
Wir beim FSH Premium Flugservice achten streng auf die Einhaltung aller dieser Wartungsintervalle und ihre lückenlose Dokumentation bei unseren Maschinen. Darauf können Sie sich genauso verlassen wie auf unseren Rund-um-die-Uhr-Service, wenn Sie eine Cessna Citation CJ2 chartern möchten. Sprechen Sie dazu gleich mit uns.
At FSH Premium Flugservice, we pay strict attention to compliance with all these maintenance intervals and their complete documentation for our aircraft. You can rely on this just as much as on our round-the-clock service if you want to charter a Cessna Citation CJ2. Talk to us about it right away.
Simply call 0342 0470580, send us an email or use our online contact here. We and our private jets are always there for you!