Rent a private jet
Private jet hire – the most important information and advantages for you
Charter flights in private jets are becoming increasingly popular, and not only among celebrities, the super-rich or business bosses. Many others are also increasingly looking to hire a private jet when flying on holiday or to business meetings. Similarly, companies are increasingly using private jets for cost-efficient travel for their employees. The reason for this trend towards charter flights is quite simple: private aircraft offer a whole range of valuable advantages over scheduled flights.
Great flexibility: around the clock with FSH private jet hire
Exclusive, luxurious travel on a private aircraft involves more than just a comfortably furnished cabin for a few passengers or special service on board. Much more important to most FSH Premium Air Service customers or passengers are the freedoms they gain when they hire a private jet.
When planning your trip, you now have many more places to choose from as departure or destination airports, because unlike scheduled flights, private jets can fly to many more smaller airports or regional airports.
This regularly saves a lot of time for transfers to the airport or after landing when travelling to the actual destination.
In addition, with charter flights you are not bound to the flight schedules of scheduled flights. Passengers on a private jet can theoretically fly at any time and at very short notice – only regulations such as a ban on night flights somewhat restrict the availability of private aircraft at some airports.
The FSH Premium Flight Service will be happy to advise you around the clock, 365 days a year, on your options for travel planning and private jet hire.
You can also avoid long waiting times at the airports and reach your destination faster and more relaxed. As a passenger on a private jet, you will be checked in quickly and comfortably at most airports in separate charter terminals away from the passengers on scheduled flights.
When you hire a private jet from FSH Premium Flugservice, you always enjoy maximum comfort from the moment you book until you arrive at your destination.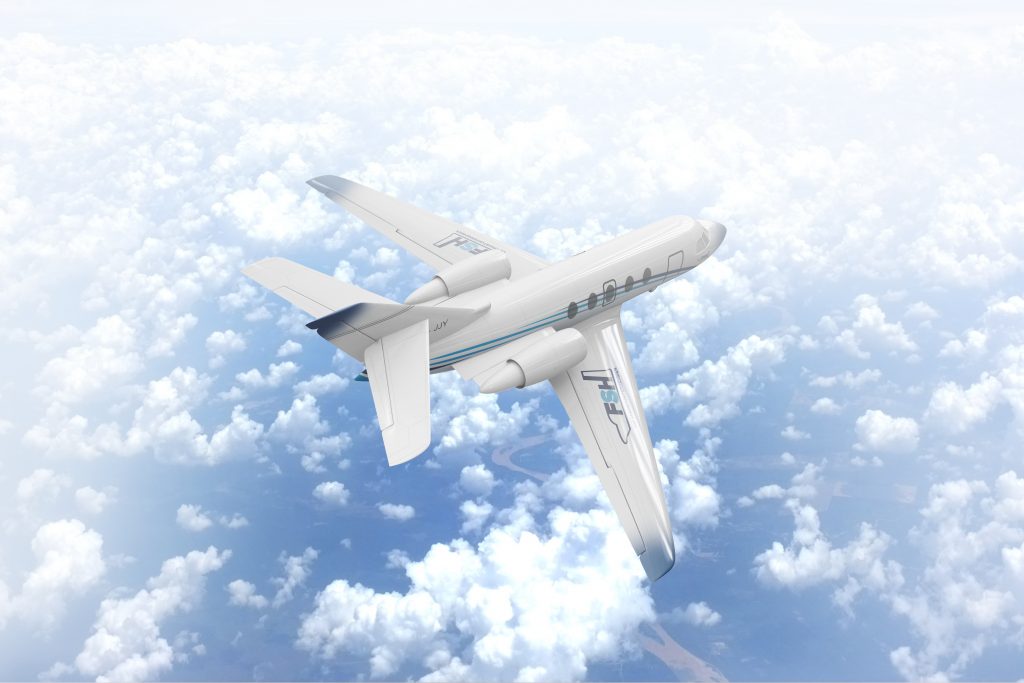 Large selection of private jets at FSH Premium Flight Service
For national and international individual charter flights, you can choose from a whole range of private aircraft here: from small turboprop aircraft to machines with jet engines, large cabins and ranges of five, six flying hours or more. So you can always rent the right private jet alone, in pairs or in smaller groups. Our service team will inform you at any time about the availability of individual aircraft or empty flights on your itinerary. Such empty flights or empty-leg flights occur time and again in charter air traffic: for example, private jets have to return to their locations after a charter flight or are repositioned for new passengers.
These empty flights can be booked in the same way as a regular charter flight if key data such as departure time or destination airport match your travel wishes. In addition to all the other comforts, there is also a cost advantage for you, because the empty leg flights are always offered at a much lower price than a regular charter flight. Private jet hire thus becomes even more cost-efficient – but even the usual average prices per flight hour are attractive when you think of the time saved with private aircraft alone.
A flying hour in small propeller planes costs from about 1500 euros. In midsize jets for seven or eight passengers, the cost per flight hour is around 5,000 euros and flight hours in larger or long range private jets cost only a little more. If you fly with comparably large groups of passengers on business or first class seats, there is often no longer a significant price advantage for scheduled flights. On the other hand, private jet hire offers a significant plus in flexibility, comfort and time savings.
Rent a private jet now – talk to FSH Premium Flight Service right away.
Simply call 0342 0470580, send us an email or use our online contact here. We and our private jets are always there for you!