Private Jet Leipzig to Ibiza
Charter a Private Jet from Leipzig to Ibiza
After Majorca and alongside the Greek islands or the Canary Islands, the island of Ibiza is one of the most popular travel destinations, and not only among Germans. As a result, planes heading for the Balearic island or departure and destination airports such as Leipzig/Halle Airport are often well filled, and not only during the holiday season. This costs travellers a lot of time and nerves. But there is an alternative: charter flights in a private jet from Leipzig to Ibiza from FSH Premium Flugservice.
Fly like a VIP: In a private jet from Leipzig to Ibiza
More and more people are treating themselves to this exclusive travel comfort. Charter flights have long been in high demand in the business sector, and holidaymakers are increasingly being seen in private jets. At FSH Premium Flugservice, you can charter a suitable private jet model at any time for any travel occasion, including cargo or ambulance flights, and for both small and large travel groups. We are there for you 24/7, will send you a non-binding offer immediately and will also take you to your destination within a few hours at short notice – for example in a private jet from Leipzig to Ibiza.
At Leipzig/Halle Airport you will find a separate terminal just for private jet passengers – just as at many other airports.
Although this terminal is directly integrated into the airport, it is completely closed off from the rest of the airport operations.
You can drive up in your car or limousine directly in front of this General Aviation Terminal (GAT) and reach the comfortable lounge after just a few steps. If you wish, we can organise a comfortable limousine or shuttle service for you in Leipzig just as we do in Ibiza.
Your luggage will of course be taken from you and immediately brought on board.
All other travel formalities are already prepared and you can board the plane after a short check-in, usually within half an hour.
There are no long waiting times or queues.
With our private jets from Leipzig to Ibiza, you can travel in a relaxed and discreet manner.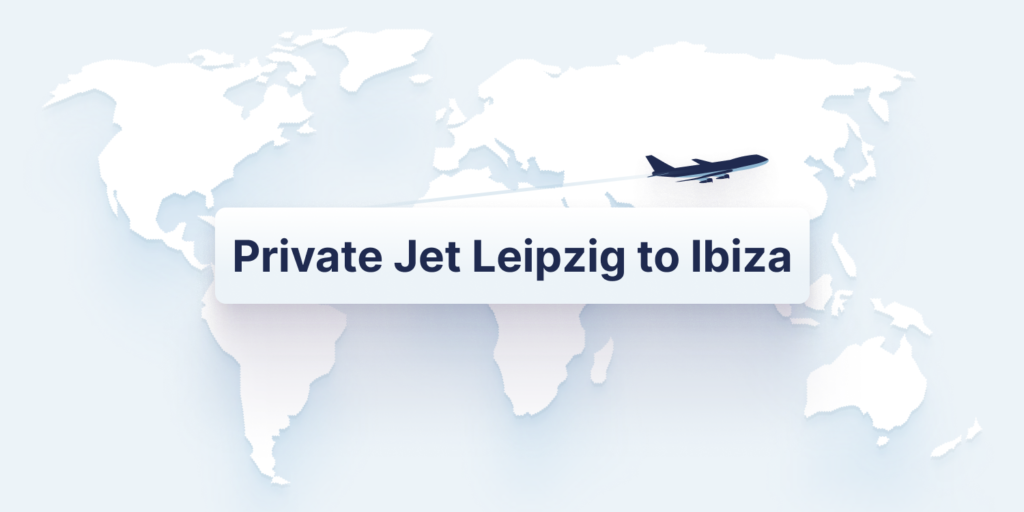 Last but not least, there is the most important advantage: no scheduled flight is as fast as the FSH Premium Flight Service. In less than two and a half hours you are already on the island! Otherwise, for scheduled flights from Leipzig to Ibiza you have to allow at least twice the time and more plus a change of planes, because the major airlines only fly to the Balearic island via detours. The charter flight in a private jet creates a direct connection Leipzig-Ibiza.
While other travellers still have to wait in planes or terminals, you have long since arrived relaxed at your holiday in Ibiza by private jet from Leipzig to Ibiza. And what could be more valuable than as many relaxed moments as possible in an otherwise often very tense schedule? Treat yourself to this precious luxury and enquire about your private jet from Leipzig to Ibiza with FSH Premium Flugservice right away.
Simply call 0342 0470580, send us an email or use our online contact here. We and our private jets are always there for you!