Private Jet Bremen to Mallorca
Charter a private jet from Bremen to Mallorca
Charter flights in a private jet from Bremen to Mallorca are taking off more and more frequently. Although there are also a few scheduled flights to the Balearic island every week from the Hanseatic city, many people prefer to opt for more flexibility, faster and more comfortable travel on board a charter plane. In a private jet, you can get to your holiday, events or business meetings on Mallorca in a much more relaxed way.
Charter flight from Bremen to Mallorca
Bremen Airport (BRE) – also known as Bremen Airport Hans Koschnick since 2017 – has its own terminal for private jet passengers. Like the airport, it can be reached quickly from the city of Bremen. If you wish, FSH Premium Flugservice can also organise your transfer to the airport, for example in a limousine or helicopter, in addition to the private jets from Bremen to Mallorca.
The VIP terminal is exclusively available to you and other passengers who may also have just booked a charter flight from Bremen.
You will experience fast check-in in just a few minutes and without long waiting times like at the terminals for scheduled flights.
Shortly afterwards, your private jet will take off from Bremen to Mallorca.
The flight time is about two and a half hours.
For charter flights from Bremen to Mallorca, FSH Premium Flugservice offers you a variety of private aircraft in different sizes and with different equipment.
On Mallorca, you land just a few kilometres outside the capital Palma di Mallorca.
The Mallorcan airport PMI also has its own terminal just for you and other private jet passengers.
Especially in summer, you won't have to wait long for check-in like the many other island visitors and holidaymakers who now arrive in Mallorca every day.
You will be on your way to your destination in Mallorca in just a few minutes.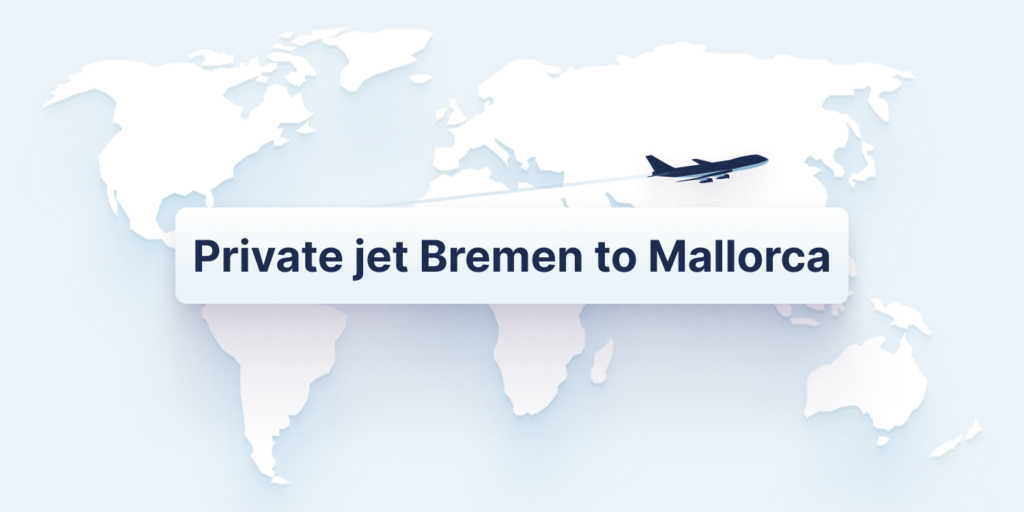 Available around the clock: book private jet from Bremen to Mallorca and other charter flights
You can reach the customer advisors of FSH Premium Flugservice 24 hours a day. We also make it possible for you to book a charter aircraft at very short notice. We also have constantly updated empty-flight offers that allow you to fly more cost-effectively in a private jet. For these flights, other charter bookings, group and emergency charters or your private jet from Bremen to Mallorca, you will immediately receive a non-binding offer from us.
Talk to us right away – your FSH Premium Flight Service.
Simply call 0342 0470580, send us an email or use our online contact here. We and our private jets are always there for you!