Private Jet Leipzig to Pisa
Fly directly from Leipzig to Pisa in a private jet
The picturesque landscape of Tuscany has long been a place of longing for many people. Some have even bought a holiday home in Tuscany. With the historic city of Pisa or the nearby coast with its many beautiful beaches, the central Italian region has a lot more to offer. Only one thing is missing: direct flight connections, such as between Leipzig and Pisa. With one or two stops, scheduled flights then often take as long as a car journey to Italy or even require an overnight stay in between. But you can also fly much faster and directly – in a private jet from Leipzig to Pisa.
Many advantages with charter flights
Private jets do not only serve routes or destinations that are particularly in demand. Here you decide when or where the journey goes. Even in a large private jet, you can then fly to many small or regional airports where no scheduled flights would otherwise land. This alone makes any travel planning easier, whether for private or business travel. This saves you a lot of valuable time on flights in a private jet and so the costs of charter flights are quickly put into perspective. You save even more time on flights by private jet from Leipzig to Pisa or on other routes with the exclusive and very short handling of the charter flights and their passengers.
If you use charter flights, exclusive terminals are available at the departure and destination airports for the usual accompanying procedures such as checking in baggage or going through customs.
Waiting times in these so-called General Aviation Terminals (GAT) with comfortable lounges are minimal. In most cases, you can board or leave the airport in less than half an hour.
What's more, you can drive up directly in front of these VIP terminals and also park there if you can't be taken there comfortably by limousine or shuttle service.
All this also awaits you at Leipzig/Halle Airport and the Aeroporto Galileo Galilei in Pisa.
Together with the flight time of just over two hours, the entire journey in a private jet from Leipzig to Pisa takes little more than three hours.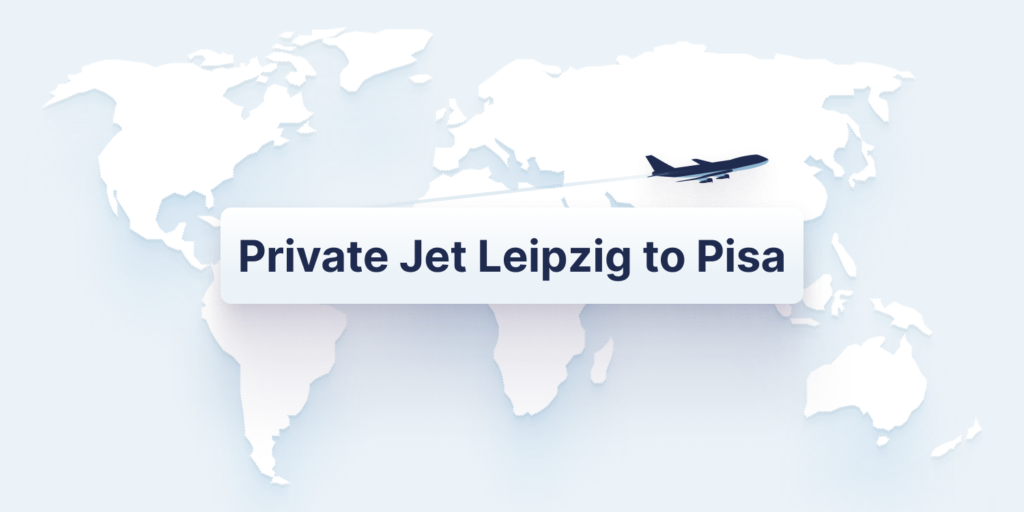 Charter a private jet from Leipzig to Pisa with FSH Premium Flugservice
You can reach us at any time, even at very short notice, to charter a private jet from Leipzig to Italy or to other destinations. We are there for you around the clock, 365 days a year. You will always receive a non-binding offer for your charter flight and optional additional services. If you wish, your flight will then take off just a few hours later. For flights in a private jet from Leipzig to Pisa, please always note that arrivals of private jets there must be notified at least six hours in advance for organisational reasons. We will be happy to advise you personally on all other details of the trip. Talk to us right away – your FSH Premium Flight Service.
Simply call 0342 0470580, send us an email or use our online contact here. We and our private jets are always there for you!