Private Jet Berlin to Mallorca
With a private plane from Berlin to Mallorca or from the holiday island back to the German capital by private jet: at FSH Premium Flugservice you will always find a suitable charter flight between Berlin and Mallorca according to your wishes. FSH regularly takes charter passengers from Berlin to Palma de Mallorca in a variety of private jets of all sizes and later back to Germany by charter from Mallorca.
Exclusive: Private flights between Berlin and Mallorca
More and more people have discovered Mallorca as a holiday island that is as close as it is exclusive. Away from the tourist crowds, they relax in luxurious hotels or even own a finca or villa on the Balearic island. Some also have frequent business dealings there. The island's airport
Son Sant Joan is located only about eight kilometres outside the capital Palma de Mallorca and therefore
very convenient to get to any place on the island quickly.
Palma de Mallorca Airport (PMI) can be reached just as quickly by private plane from many German cities.
From Berlin to Mallorca, you can reach your destination in around three hours by private jet.
In Berlin as in Palma, you will be checked in at a private terminal quickly and without long waiting times or queues.
In Berlin, you will then fly or land at Berlin-Schönefeld Airport, which handles private jets and their charter passengers for the new capital city airport BER.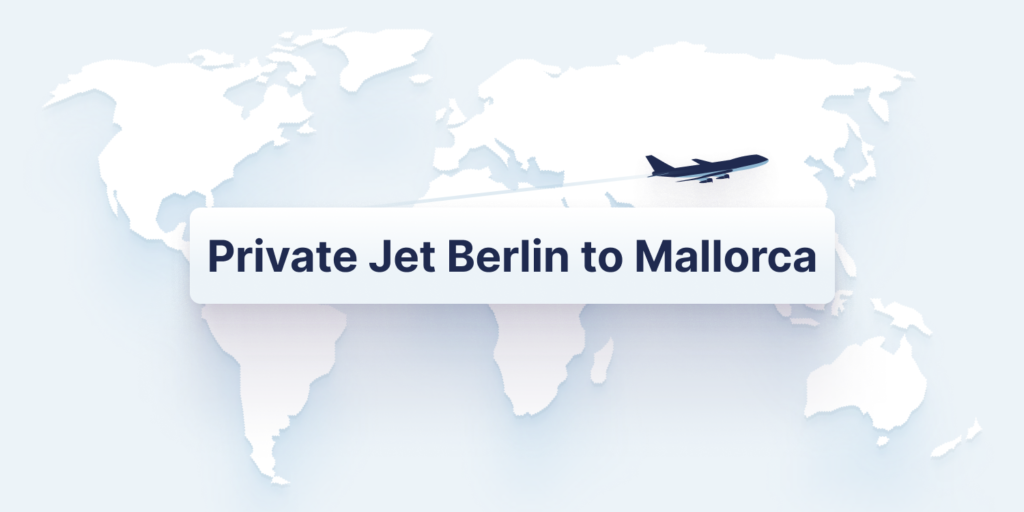 These private aviation terminals are one of the many benefits that charter customers in private jets appreciate so much. You can get from the terminal to the private jets and their comfortable seats in no time at all, or just as quickly out of the airport at the destination of the private flight.
In Berlin and especially on Mallorca, this is a special luxury. Palma de Mallorca Airport is the third largest in Spain and one of the busiest airports in Europe during the holiday months. Anyone arriving in Mallorca on a scheduled flight instead of a private jet must always reckon with some waiting time at check-in or baggage claim and large crowds. In a private jet, Mallorca from Berlin and other cities becomes a completely different experience: You arrive much more relaxed on your holiday or for a business appointment and later likewise return from Mallorca to Berlin in a private jet.
Individual flight service and private charter from Berlin to Mallorca
With FSH Premium Flight Service, only you decide when you fly and with which private aircraft. Our 24-hour customer support plans charter flights for you in the long term, but can also organise a spontaneous private flight from Berlin to Mallorca and back at short notice if required. If you wish, we can also take care of individual on-board service or local transfers, for example with a limousine service to the flight in the private jet from Berlin to Mallorca.
Talk to us about it right away – and soon you will be taking off from Berlin to Mallorca in a private plane with FSH.
Simply call 0342 0470580, send us an email or use our online contact here. We and our private jets are always there for you!