Private Jet Düsseldorf to Mallorca
Relaxed and exclusive from Düsseldorf to Palma de Mallorca in just around two and a half hours – private jets make such flights between Düsseldorf and Mallorca possible at any time. The FSH Premium Flight Service brings you on board for such a comfortable flight to your holiday in Mallorca or to events and business appointments on the island. Charter flights from German cities to the Balearic island are very much in vogue, because in addition to lots of luxury, they also give you peace of mind when you travel in a private aircraft with only a few passengers.
Charter flights Düsseldorf – Mallorca in a private jet
Mallorca is one of the most popular destinations for Germans. Besides package tourism, the island offers just as many opportunities for first-class luxury holidays. Many have fallen in love with the island so much that they have bought fincas or villas there. Fittingly, people are also looking for luxury travel options to the island where they can enjoy more privacy and the best service when flying to Mallorca from cities like Düsseldorf. Private aircraft and charter flights to Mallorca offer this premium air service and travel in the absolute luxury class.
At DAS – the Düsseldorf Aviation Service – you will be looked after personally and quickly as a private jet passenger, away from queues and crowds in the large terminals, before boarding the private jets from Düsseldorf to Mallorca.
Barely two and a half hours later, you are already landing in your charter plane at the island airport of Palma de Mallorca (PMI).
In less than ten kilometres you are in the city centre of Palma de Mallorca.
You only have to drive about 60 kilometres from the airport to the other end of the island to places like Alcudia or Cala Rajada.
You can also quickly fly from Palma airport to the other Balearic islands of Ibiza or Menorca by private plane. These excursions only take around 40 minutes by private jet.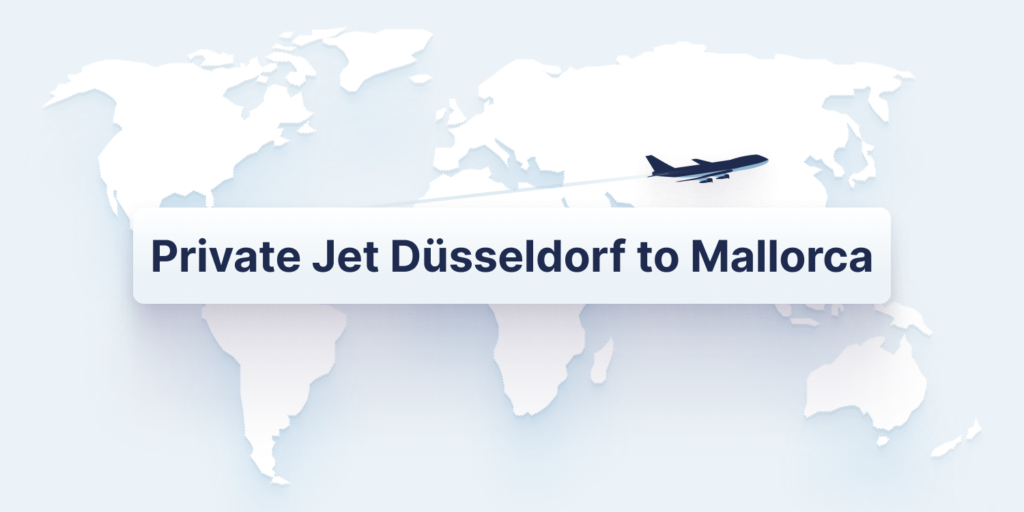 Experience all the comfort of flying in a private jet from Düsseldorf to Mallorca
Private aircraft travelling on the Düsseldorf – Mallorca route offer you around ten very comfortable seats with plenty of freedom of movement throughout the private jet cabin. Here you can travel with just your family, business friends or a small circle of colleagues. Service staff will fulfil your every wish during the flight. You can book individual arrangements with the private jet for the flight from Düsseldorf to Mallorca with our FSH Premium Flight Service – as well as transfers or limousine service on site. On departure or arrival, exclusive private jet terminals will process your luggage or customs formalities in the shortest possible time with personal service. Here you do not have to wait long like in the terminals of the scheduled airlines. This saves you a lot of time around your flight in a private jet from Düsseldorf to Mallorca and lets you arrive on holiday or at appointments much more relaxed.
Plan your charter flight from Düsseldorf to Palma de Mallorca now. Whether long-term or completely spontaneous in a private jet from Düsseldorf to Mallorca – the 24-hour service team of FSH Flugservice always organises these and other charter flights perfectly for you.
Simply call 0342 0470580, send us an email or use our online contact here. We and our private jets are always there for you!