Private Jet Frankfurt to Pisa
Private jet charter from Frankfurt to Pisa
Charter flights have many advantages. Here you fly
• flexible
• individual and
• comfortable
through Germany, Europe and the rest of the world. But when you charter a private jet, you don't just enjoy luxury or generous space on board the aircraft. Above all, you gain a lot of time compared to scheduled flights. Charter flights can fly to many more airports than scheduled flights. This means that you can often get to your destination without the need for long transfers. Above all, a private jet offers direct flights that are not available elsewhere – for example, on the Frankfurt – Pisa route.
Book a direct flight: Private jet from Frankfurt to Pisa
Anyone who has ever flown with one or two stops and change of planes knows how long it can take. The time needed for the journey multiplies and sometimes you even have to spend the night in an airport hotel somewhere. This is what you can expect, along with long check-in times or queues, even on normal flights from Frankfurt to Pisa. A charter flight on a private jet from Frankfurt to Pisa, on the other hand, can take you directly there.
Fly by charter from Frankfurt to Pisa in around two hours.
Direct flights to Tuscany including VIP service.
Exclusive, fast check-in in separate terminals at Frankfurt/Main Airport and Galileo Galilei Airport in Pisa, also known as San Giusto.
Ideal for relaxed private as well as business trips to the entire Tuscany region or also to Florence.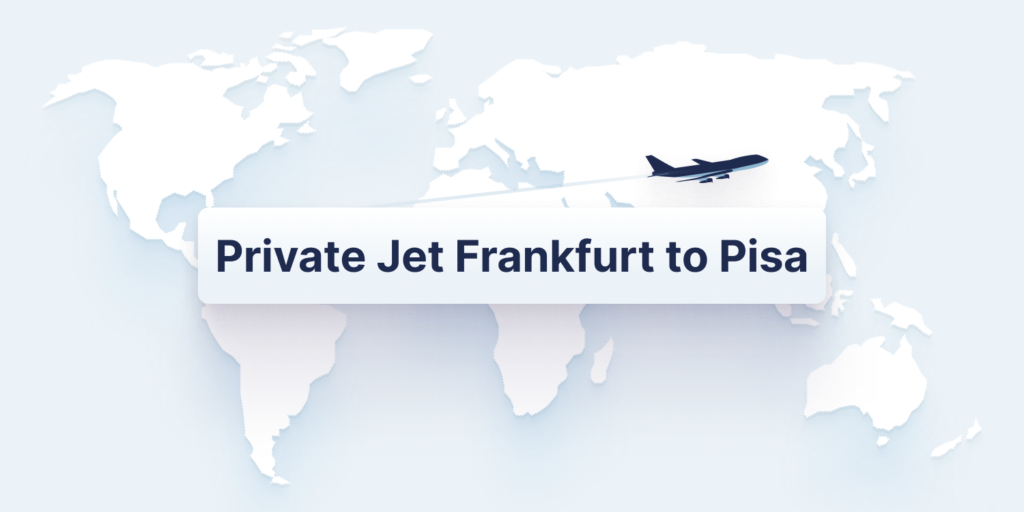 Pisa airport is the largest airport in Tuscany. It is also very conveniently located only about two kilometres outside the city. As a passenger on charter flights to Pisa, you will not notice the often high passenger volume. You arrive in Tuscany at the airport's General Aviation Terminal (GAT) and are quickly guided through all the necessary formalities. There are no queues or waiting times here. This also saves you a lot of time when you fly from Frankfurt to Pisa in a private jet.
Non-binding offer for charter flight in private jet from Frankfurt to Pisa
Unser FSH Premium Flugservice organisiert Ihnen jederzeit Charterflüge oder Reisen im Privatjet auf der ganzen Welt. Dabei steht Ihnen immer eine umfangreiche Auswahl unterschiedlicher Flugzeuggrößen und -typen zur Verfügung. Diese können Sie auch sehr kurzfristig für Charterflüge buchen – zusammen mit weiteren Services wie zum Beispiel Limousinen oder Vans für einen Shuttle-Service. Sprechen Sie rund um die Uhr an 365 Tagen mit uns über Ihre Reisepläne. Wir organisieren alles für Sie und Sie erhalten sofort ein unverbindliches Angebot dazu. Ebenso haben wir immer wieder Leerflüge, die Ihnen Charterflüge zu attraktiven Preisen bieten. Kontaktieren Sie doch gleich Ihren FSH Premium Flugservice.
Our FSH Premium Flight Service organises charter flights or private jet journeys all over the world at any time. There is always an extensive selection of different aircraft sizes and types at your disposal. You can also book these for charter flights at very short notice – together with other services such as limousines or vans for a shuttle service. Talk to us about your travel plans around the clock, 365 days a year. We will organise everything for you and you will immediately receive a non-binding offer. We also always have empty flights available, offering you charter flights at attractive prices. Why not contact your FSH Premium Flight Service right away?
Simply call 0342 0470580, send us an email or use our online contact here. We and our private jets are always there for you!