Private Jet Leipzig to Milan
Fly from Leipzig to Milan by private jet
Milan is considered the secret capital of Italy. The automotive industry, the fashion world, the bio and chemical industry or financial companies: Around half of the 200 largest Italian companies are based in Milan. That's why many business travellers come here, and tourists visit the city by the dozen. If you come from Leipzig or some other cities, however, there is quickly a problem when planning your trip. You won't find a direct connection with the major airlines and their scheduled flights. The direct flight is only possible with a charter flight in a private jet from Leipzig to Milan.
A private jet makes you as flexible in the air as a car on land
In everyday life, it is a matter of course. You are probably much more likely to use your car than local or long-distance public transport because it is simply more convenient and saves a lot of time. It is very similar in the air and with air travel. For a lot of flexibility and time savings, private jets or charter flights are much more advantageous than scheduled flights. Few people own their own private jet, but you can always charter one if you need it – for example, for a flight in a private jet from Leipzig to Milan:
Fly in a private jet from Leipzig to Milan in little more than two hours.
On scheduled flights, you'll be on the road for at least twice as long.
You also have to allow for a lot of waiting time and long queues.
Travel much more relaxed and faster with a private jet from Leipzig to Milan.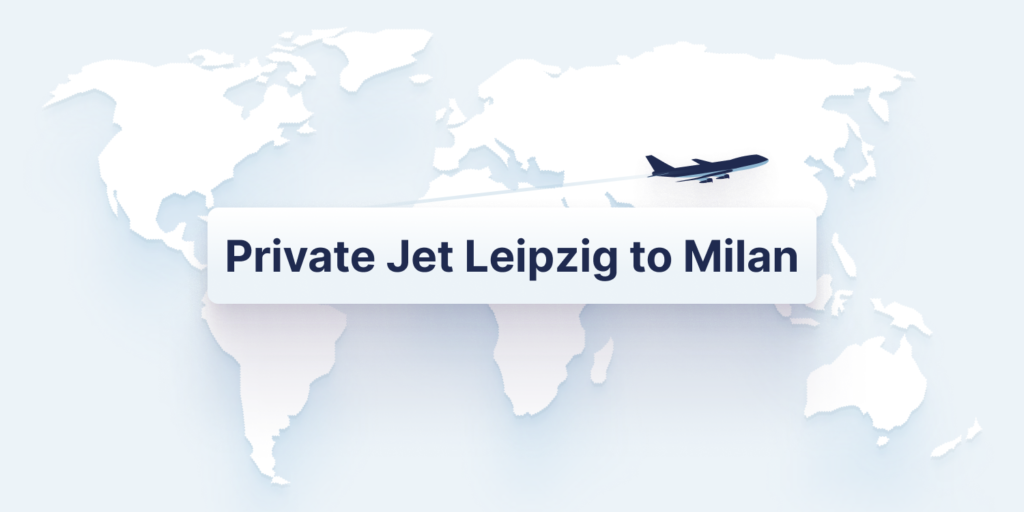 On board a private jet, you always experience plenty of luxury. There, you can expect a spacious room with homely seating landscapes of armchairs and sofas plus individual service. At a comparable cost, you will find much more luxury, comfort and freedom of movement than in First Class on a scheduled flight.
But the greatest luxury is the time you gain with a charter flight in a private jet. Get to your destination faster with private jets. As a passenger on a charter flight like the private jet from Leipzig to Milan, you fly at a similar speed as in a large passenger aircraft. But you save several hours around your direct flight from Leipzig to Milan:
through fast check-in at own terminals only for you and other charter airlines
simply drive directly in front of the terminal and board immediately after a few minutes of check-in or leave the airport in Milan
These are your other advantages when you charter a private jet from Leipzig to Milan. We – FSH Premium Flugservice – organise everything for you. We will gladly arrange additional services for you, such as catering, interpreters or a limousine service for the airport transfers. We are available for you 24/7 all year round.
Talk to us now and you will immediately receive a non-binding offer for your flight in a private jet from Leipzig to Milan or for all other flight connections of your choice.
Simply call 0342 0470580, send us an email or use our online contact here. We and our private jets are always there for you!