Private Jet Leipzig to Naples
Fly from Leipzig to Naples in a private jet
Naples and the Amalfi Coast around the city are worth a trip at any time of year. Exclusive beach holidays in a luxury hotel or sightseeing with the UNESCO World Heritage Site of Naples' old town and the ruins of Pompeii in the shadow of Mount Vesuvius: varied holidays for every taste await you here. Charter flights take you there in a relaxed and comfortable way – for example, with the charter of a private jet from Leipzig to Naples.
Direct from Leipzig to Naples: a private jet and many advantages
More and more people are contacting our FSH Premium Flight Service for charter flights in private jets in Germany, Europe and all over the world. There is a very simple reason for this. Charter flights save you a lot of time and this is worth so much to more and more people that they are happy to charter a private jet for holiday or business flights. The flight in a private jet from Leipzig to Naples is a good example of this:
You cannot fly directly from Leipzig to Naples with the well-known airlines.
At least one stop extends the flight time to over five hours. It is not uncommon for scheduled flights with two stops to take ten hours or more.
A private jet from Leipzig to Naples as a direct flight will take you to your destination in about two and a half hours.
For busy people, each of these saved hours is a monetary advantage.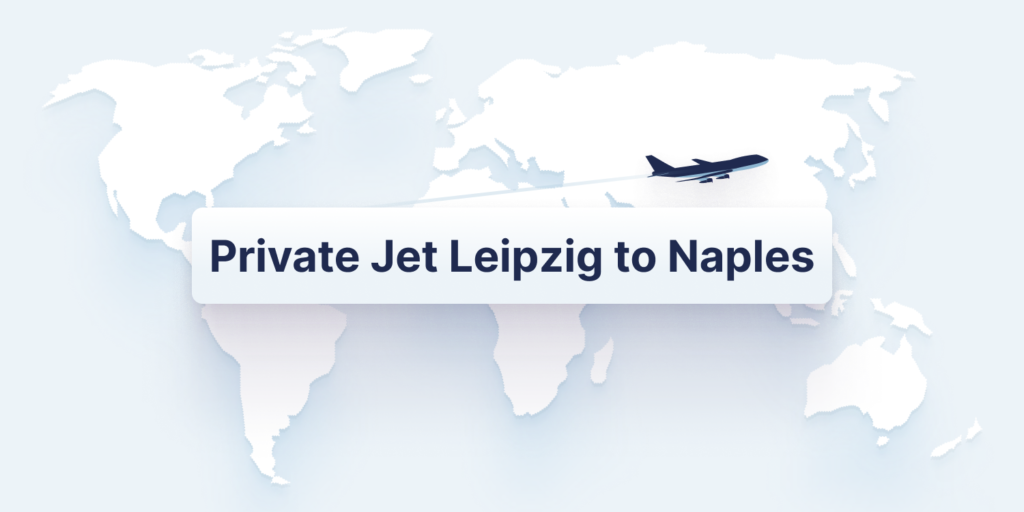 In addition, if you want some comfort, you will hardly have to pay less for the scheduled flights of the major airlines in Business or First Class than for a private jet from Leipzig to Naples – especially if you are flying with family, friends, employees or business partners. But you still have to use the usual airport terminals with all their procedures. And you probably know the many messages: there are often long waiting times. On charter flights, on the other hand, you travel exclusively both on board and on the ground. On flights such as a private jet from Leipzig to Naples, you will be welcomed at the departure airport as well as at the destination airport in special private jet terminals – the General Aviation Terminals (GAT). There you can expect lounges, VIP service and fast check-in in just a few minutes. This saves further time, but also allows you to travel in a relaxed and discreet manner on holiday or to business appointments.
Flexible and comfortable flights at any time
A short holiday or a last-minute business appointment, in a private jet from Leipzig to Naples or on countless other routes: The FSH Premium Flight Service will get you there. You can reach us 24 hours a day, 365 days a year for your travel planning. Get an instant, no-obligation quote for any charter flight or request current low-cost empty flights for many routes from FSH Premium Flugservice.
Simply call 0342 0470580, send us an email or use our online contact here. We and our private jets are always there for you!